Senator Rand Paul was attacked yesterday. He received death threats and a "suspicious package" that is being investigated by the FBI. One would think the various search engines would make this a top story when people searched for "Rand Paul." It's big news. Bing and DuckDuckGo did. Google… not so much.
Article from The Liberty Daily.
Bing vs. DuckDuckGo vs. Google pic.twitter.com/cg3SahPdsJ

— Tom Elliott (@tomselliott) May 25, 2021
Eventually, Google did list news of the attacks on Senator Paul alongside the ideological attacks by people like Stephen Colbert, but not for at least three hours after Bing and DuckDuckGo were sharing the important news. After all, this is a United States Senator who was the victim of an alleged terrorist attack. Colbert's opinion should be secondary to that, at least in a sane world.
Here's Bing: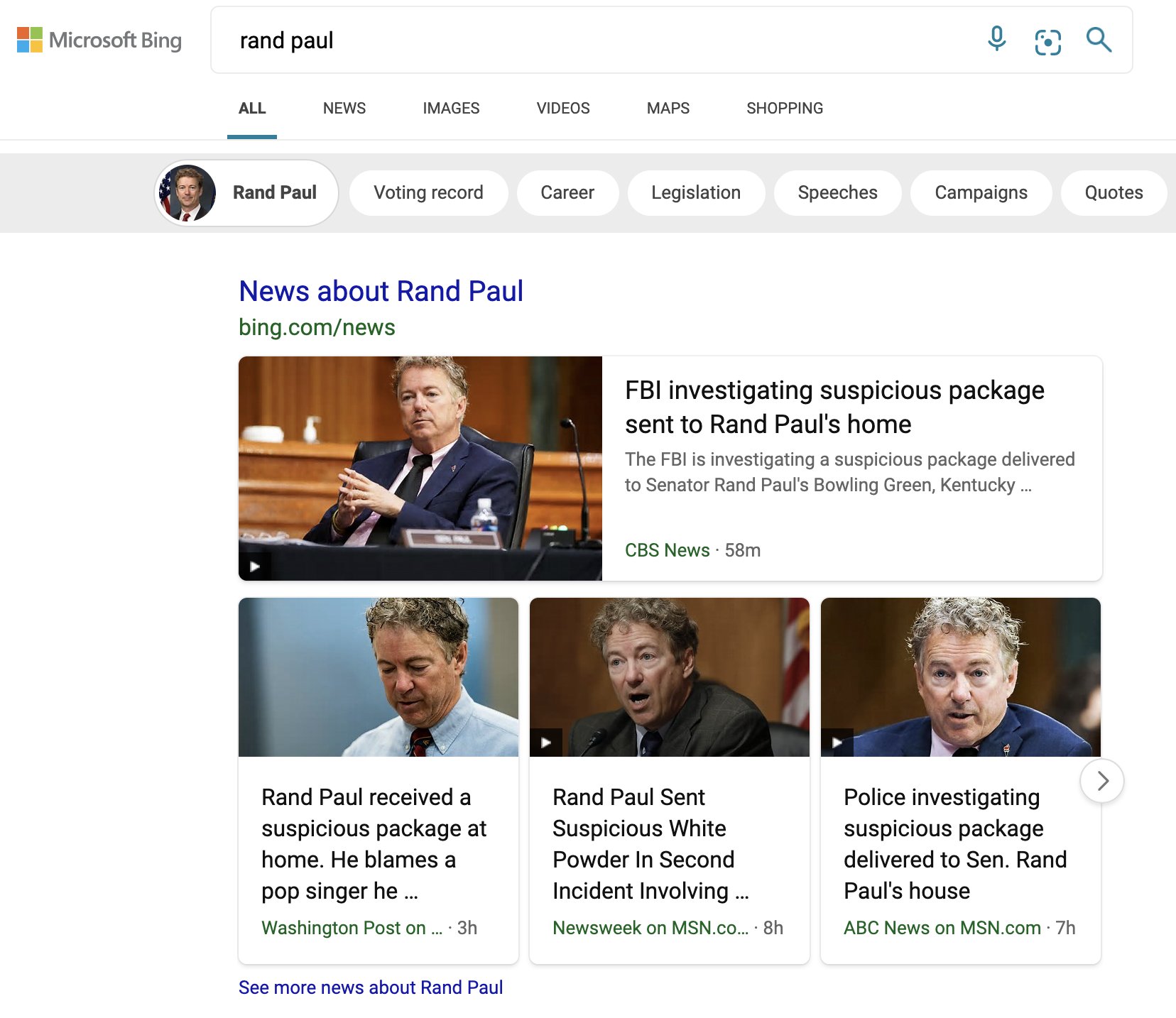 Here's DuckDuckGo: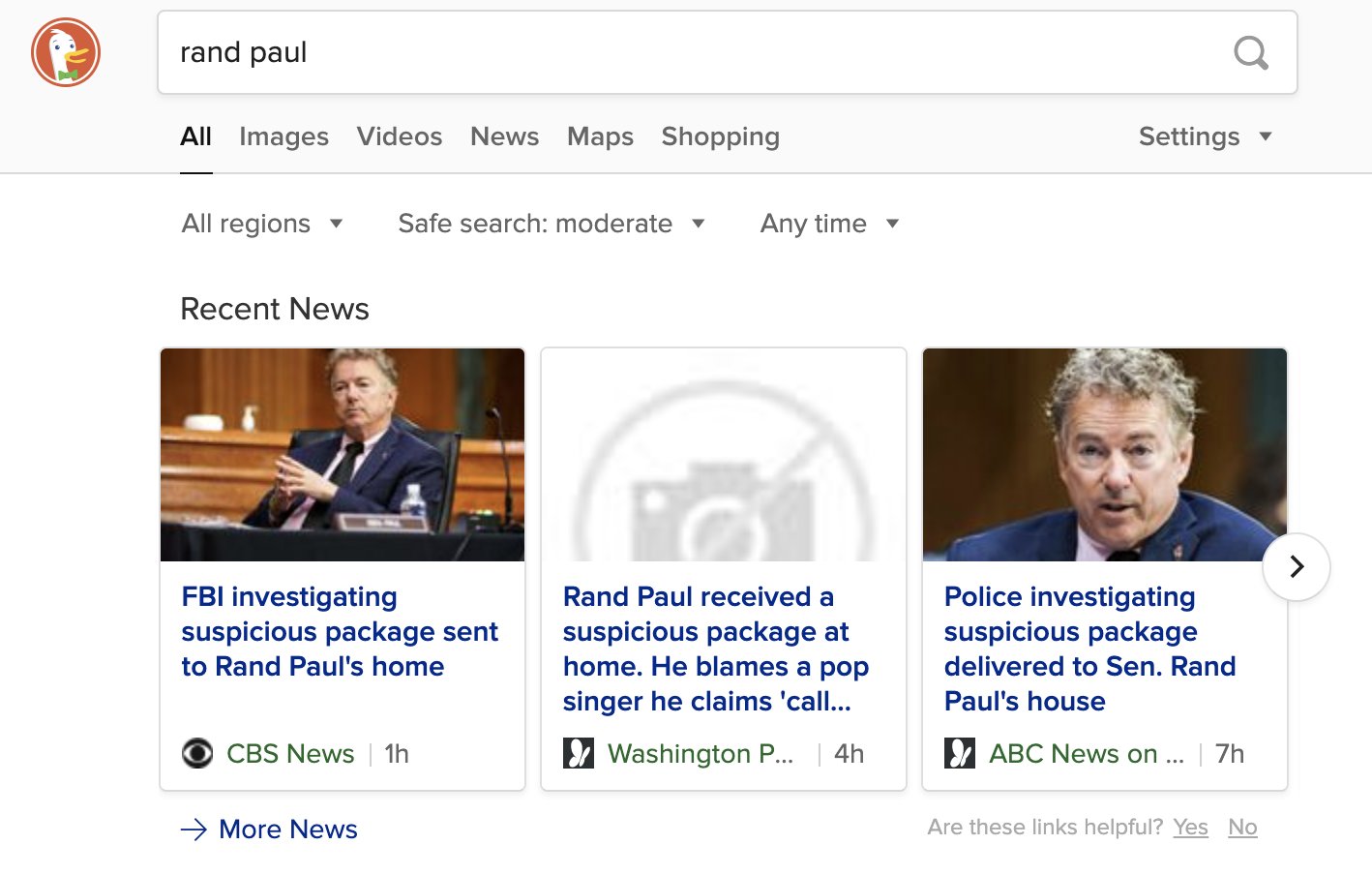 And here's Google: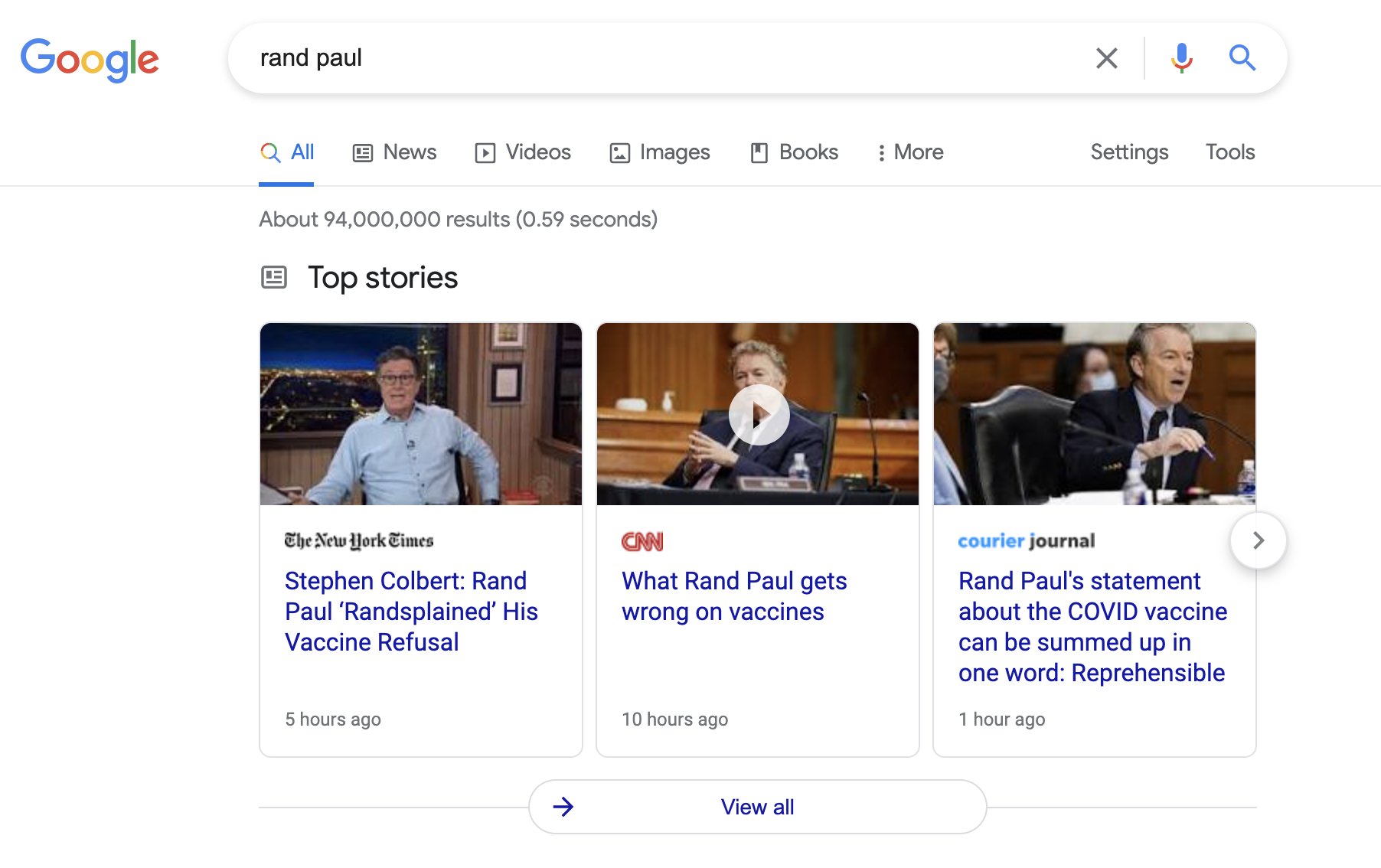 Let's get one thing straight. Google's search engine is the most "capable" when it comes to delivering the news. By "capable," I mean it's able to deliver the fastest and most relevant results if it is allowed to do so. Their technology is far superior to both Bing's and DuckDuckGo, so anyone who thinks this was just a lag in reporting is wrong. They have programmed their algorithm to highlight the negative stories they displayed while suppressing anything that could draw positive thoughts or sympathy for conservatives like Rand Paul.
Google's bias isn't just the manual actions they take on their various properties, especially on YouTube and their search engines. They've trained the algorithms to detect topic and sentiment. It's actually quite scary how accurately their algorithm — which has been developing for over a decade in its current iteration with tens, perhaps hundreds of millions of dollars put into it — can determine what a story or video is attempting to communicate. But hidden within this algorithm is the bias Google and most of its employees collectively share.
Ever since the 2016 election didn't go as they predicted, Google and others in Big Tech made the conscious decision to push their narratives and agenda much harder. They always knew they had the power to make changes, but when their preferred presidential candidate lost in 2016, they swore to "do better" for 2020 and beyond. The have embraced the Democrats and their leftist agenda, which means they do what they can to suppress Republicans and conservatives.
The Rand Paul story was not manually suppressed as some have assumed. It was the victim of an algorithm that can't always tell which positive or negative sentiment to suppress or amplify. Eventually, Google did put the terrorist attack stories on the list, likely based on social signals override the algorithmic bias.
Big Tech in general and Google in particular despise all conservatives and most Republicans. Their systems are designed to amplify progressive messages and suppress conservative ones.
---
---
YouTube, Spotify, and other Big Tech platforms are taking Freedom First Network down
It's no secret we speak our minds and bring on guests who do the same. That's one of the biggest reasons we put together the Freedom First Network in the first place. There are far too many news outlets, including so-called "conservative" media companies, who are so beholden to Big Tech that they temper their perspectives at best and outright coverup the truth at worst. Many, as you all know, will blatantly lie in order to maintain the narrative that supports the radical agenda taking over much of the United States.
Stock up on long-term storage beef before prices SKYROCKET. 10+ year shelf life, premium cuts, all-American, no mRNA jabs. Promo code "cleancows" at Freedom First Beef.
We have had our YouTube channel taken down. Many of our shows have been suppressed or removed by Facebook and Twitter. Spotify banned one of our shows completely from their platform. Google hates us. We've even been censored by some of the smaller players like Medium, Transistor, and Captivate. But we stand behind our reporting and perspectives and we refuse to bow down to Big Tech tyranny for the sake of pageviews or video plays.
This isn't the easiest road to travel, especially for a media company that is so new. We launched Freedom First Network in 2020 to fight against the very censorship that we're seeing so widespread today. We have found great homes for our content on freer speech platforms like Rumble and we're putting our best efforts forward into building our presence on Locals. Nevertheless, we cannot do it alone. We need help.
One of the things cofounders Jeff Dornik and JD Rucker agreed to from the start was to never be the pawns of companies that do not embrace our worldview. Finding advertisers and affiliates is easy; we receive requests by companies wanting to be pushed on our shows every day. But it's important to us that we're promoting companies, services, and products that are beneficial to maintaining a Freedom First stance in America. As a result, we do not take on sponsors easily. We would rather rely on our own products like Freedom First Coffee and the support of our wonderful viewers, listeners, and readers.
Those who want to support us and help keep the fight for America's future moving forward can do so by donating through our Locals page. There, you can donate monthly or one-time. Some have told us to use Patreon or GoFundMe, but both of those platforms have demonstrated a hatred for free speech. Locals does not. They embrace it. We encourage everyone to join us on Locals, but donations are greatly appreciated as well. We do not have day jobs. Our fight for freedom is a full-time gig.
Protect your retirement with
PHYSICAL BULLION
. Gold and silver in a self-directed IRA or in your safe at home is quickly becoming the most popular way to defend Americans' life's savings. Contact
Ira Bershatsky
for real answers to your questions.
Please feel free to reach out to us through our contact form. It goes directly to our founders, so if you're interested in getting involved, investing, sponsoring, or even bringing a show to our network, let us know. May God Bless the United States of America!
Stock up on long-term storage beef before prices SKYROCKET. 10+ year shelf life, premium cuts, all-American, no mRNA jabs. Promo code "cleancows" at Freedom First Beef.
Don't get fooled by "Big Gold" scams. Protect wealth or retirement with physical bullion from an America First Patriot, Ira Bershatsky at Advisor Metals.